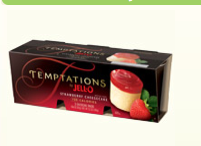 THIS OFFER MAY NOT BE AVAILABLE TO EVERYONE AT THIS TIME BUT MAYBE AVAILABLE AT A LATER TIME!
Yay, I got one! Kraft First Taste members can log in to their account (or join today), then click 'My Offers' tab on the left and you might just find a coupon for a FREE 3-pack of new TEMPTATIONS by JELL-O (up to $3.30)!
Allow 4- 6 weeks for delivery. All coupons are offered while supplies last. Let us know if you were able to score this coupon!
P.S. CLICK HERE to "like" Coupon Pro on Facebook!