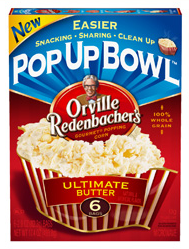 UPDATE #2: ALIVE AGAIN! (thanks so much @Natalie)
UPDATE: Sorry, this offer is dead!
HURRY, FIRST 50,000 ONLY!
Hurry over here to score a FREE sample of Orville Redenbacher's Pop Up Bowl popcorn from All You… no thing to check off anything but only the 'No thanks! Just send me my sample…' part.
Allow a few weeks for delivery.