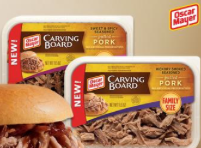 FREE Pack of Oscar Mayer Pulled Pork – HURRY!
Yay! Hurry over to Facebook to score a FREE Pack or Oscar Mayer Pulled Pork when you give a taste-a-monial. Last year, we were able to get all the way up to a FREE pack, so I'm sure this time will be no different. While supplies last.

 And don't forget to sign up for FREE Hot Offer Text Alerts so you never miss a hot freebie!