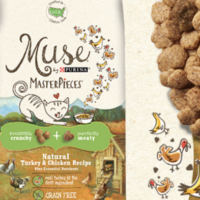 Cat owners! Go request a FREE Sample of Purina Muse MasterPieces Cat Food when you copy and paste the following link into your browser:
https://puri.na/2ub33vj
Note that you'll automatically be subscribed to their newsletter but you may unsubscribe at anytime. This new product is a natural dry cat food with a mix of irresistibly crunchy and perfectly meaty bites. Allow 6 to 8 weeks for delivery!