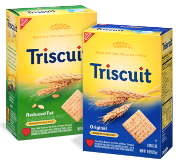 Triscuit Dill Crackers Coupon $1/1
These sound yum! Head on over to Facebook to print a Triscuit Dill Crackers Coupon for $1/1 Triscuit Dill, Sea Salt & Olive Oil Product. Want to save ink? Click "Help" on the lower right of the bricks coupon printer page to get this coupon mailed to your home. I've seen these as low as $1.49 each, so only $1 after coupon. Any coupon deals out there?
P.S. Make friends and share deals with over 97,000 fans of Coupon Pro on Facebook!