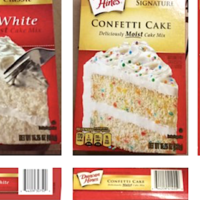 Duncan Hines Cake Mix Recall 2018

Check your pantry! Conagra is voluntarily recalling 2.4 million boxes of their Duncan Hines Cake Mixes. The varieties included in this recall are Classic White, Classic Butter Golden, Signature Confetti and Classic Yellow flavors. What's the reason? Due to concerns of salmonella. Go here for full details and to see whether you have an affected product!
How to get your refund?
If you have any of the products stated, you should throw them away, return to the place of purchase or contact Conagra at 1-888-299-7646 for more information.
SHARE this post to alert all families!