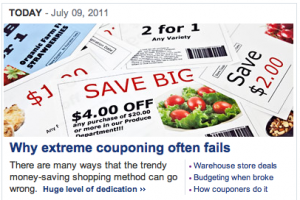 I just spotted Extreme Couponing making it's second appearance on the front page of Yahoo! News. Grrrreat! 😉
"Why Extreme Couponing Won't Work For You
Wednesday, July 6, 2011
In today's environment, frugality has become trendy and shows like TLC's "Extreme Couponing" have gone viral with 2.1 million viewers tuning in for the premiere. The show depicts penny pinching as an extreme sport. For the stars of the TLC show, and for the customers who you see three carts deep in the supermarket check out line, this is no haphazard coupon clipping. This is an organized way of life. The concept is impressive, they may proudly hand over a handful of singles for hundreds of items, but is this level of couponing wise?
Time Commitment
Gone are the days of snipping a few interesting looking items from your local Sunday paper. Extreme couponing requires real commitment and organization. Before you even get to the store you have to start researching in newspapers and scourging online sites such as Coupons.com, RedPlum and the Grocery Game. Once you have cross-referenced your coupons you need to find a binder with slide-in slots and start filing them by item, expiration date and participating store. For the dedicated shoppers this gathering, cutting, printing and cataloging is a part time job taking up hours of each week. If you don't have several hours a week to dedicate to the work you will lose interest quickly. It might become necessary to create a support network of friends, family and neighbors so you can swap coupons and share ideas.
Once you have your binder ready and you have checked your email account for any last minute sale specials, you are ready to start the business of shopping. In the world of extreme couponing this does not mean a single trip to your local supermarket. Pack a water bottle and ready yourself for a long journey. Many coupons are store specific so you will need to start jumping from one store to the next. Is the saving worth the extra time spent in traffic, gasoline used or minutes spent waiting for public transportation? Unless you have gargantuan calf muscles and are prepared to carry a heavy load, cycling may become difficult for this type of shopping.
Stockpiling
If you are going to start extreme couponing, some serious storage is essential. Be prepared to look like you are preparing for the apocalypse. Depending on the size of your home, you will need to put up shelves in your garage or dedicate a closest to your loot. Extreme couponing may not be feasible for people living in small city apartments who don't want to see canned goods taking over their living room. If you do have the space for storage then organization is key. You will kick yourself if you squeeze everything into a cupboard and then realize that half of your goods have gone sliding past their expiration date.
Are you buying what you want?
If you are dedicated to couponing then you will do your best not to deviate from the shopping list in your binder. The problems with this are threefold. One, most coupons are for pre-packaged foods rather than the freshest and healthiest food products. Two, many of the products that have coupons are new to the market; they are often not the tried and tested favorites and may have very little user feedback to attest to their quality. Three, in your determination to get a great deal you may not be buying goods that you either need or want. Some extreme couponers get around this problem by donating many items to food pantries. While this is both worthwhile and noble, the food pantries may not need the more obscure items that you are generously giving away.
The Bottom Line
If you are organized, have free time, have the room for storage, want to save money or feel compelled to donate offerings to food pantries, then extreme couponing may work well for you. However, if you are attempting to re-create what you have witnessed on television, will you ever be able to save enough? If the extreme couponers are the stars of this world, your efforts may seem pitiful in comparison. You may save money here and there but will you feel like a failure if you spend more than you save? With the increased use of coupons in the wake of the changing economy and the popularity of the TLC show, supermarket retailers are starting to revise their couponing policies to avoid driving themselves out of business. As our expectations for frugal shopping rise, extreme couponing may become increasingly difficult with only a few dedicated shoppers seeing the addictive savings that have driven the craze."
We'd love to hear you what you think. Thoughts?
(Source: Yahoo! Finance)