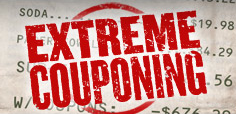 It's Wednesday y'all and you know what that means… TLC's mega-hit Extreme Couponing airs TONIGHT, Wednesday at 10 p.m. Tonight's episode features Joel, a 16-year-old coupon addict who once called couponing a hobby but now admits it's an obsession. Obsession? Um, this may get interesting!
Watch tonights preview of Extreme Couponing now!
Here are some of my tips to live by when watching the show and while out shopping:
Don't buy out the newspaper stand. Personally, 1 or 2 Sunday newspapers filled with coupons is enough for me to score some awesome deals for myself and my family. Don't over do it by buying 15 or 20 papers on a single Sunday. Give others a chance to score a paper or two!
Don't clear shelves. Walking into a grocery store and clearing a full shelf of toothpaste (or any item) is not cool. The show may portray these individuals as, "Wow, they just scored 100 boxes of  FREE!". It's all for show. Lets give everyone the chance to score these amazing deals!
Stockpiling. It's ok to have a stockpile, but don't over do it. There is no reason why anyone should have a 9 year supply of toilet paper sitting around. Deals come around more often than you think, so stick to holding on to a 2-3 month supply.
Donate. If you have a big enough stockpile, and you think you may not come around to using it all, donate it to a friend, a local church or shelter. Don't let stuff go to waste!
Be positive. Don't let this show or anyone ruin your experiences and passion for couponing. A lot of coupon-related changes have taken place since the shows premier but we must move on and never give up.
Finally, let not forget Extreme Coupning is ENTERTAINMENT, folks.
We'd love to know, will you be watching tonight?