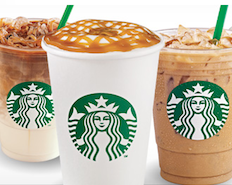 My Starbucks Rewards 2012
Great news! Starting October 16th, 2012, Starbucks is updating their My Starbucks Rewards program to make it easier and faster for you to earn and redeem rewards.
First the good news:
Now you can use your "free drink" on food too. Whatever looks delicious.
Earn a free drink (or food) every 12 Stars instead of 15. Watch 'em roll in even faster.
This hasn't changed: earn 30 Stars every year as a Gold level member and you're Gold for another year. Also, free birthday drinks and free refills are here to stay. Just like that.
Your free drink (or food) will load right onto your Starbucks Card account. You'll receive an email alert when you've earned your reward. Just bring your registered Starbucks Card or the Starbucks Card mobile app to a participating store and tell your barista.
The not so bad news (in my opinion):
We will no longer offer syrups and soymilk on the house.
We also will no longer offer a free tall drink when you buy a pound of coffee.
For more info, go to My Starbucks Rewards 2012!
(thanks @Ann and @Sari)